Hello everyone, just keeping you up to date with my catches etc :) I have been relaxing and not doing much fishing over the winter months...its been nice to have a rest!
Sunset Ray Bash! Blanked But Enjoyed it :)
Sunday 16th February St Catherine Species Competition
It was good fun! I Started off concentrating on a Ray (with the hope of a Dogfish on one rod) & the other for a Wrasse with some worm on small hooks.
Had around 4 Dogfish during the competition even had one on a worm bait dropped down the side of the Breakwater!
Then I got my Goby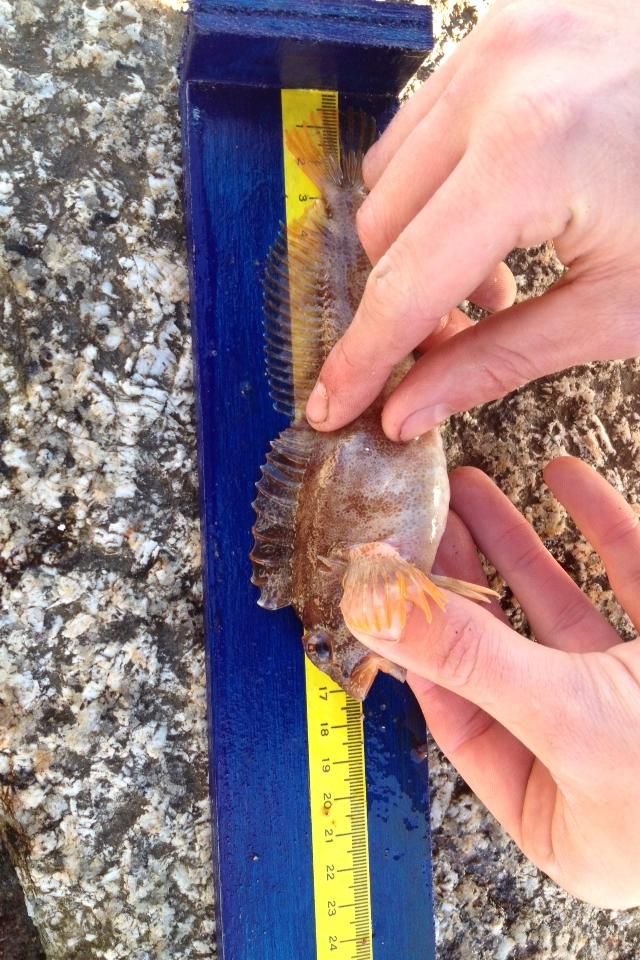 Then i was starting to panic that i wouldn't get one...but i got my Wrasse in the end!!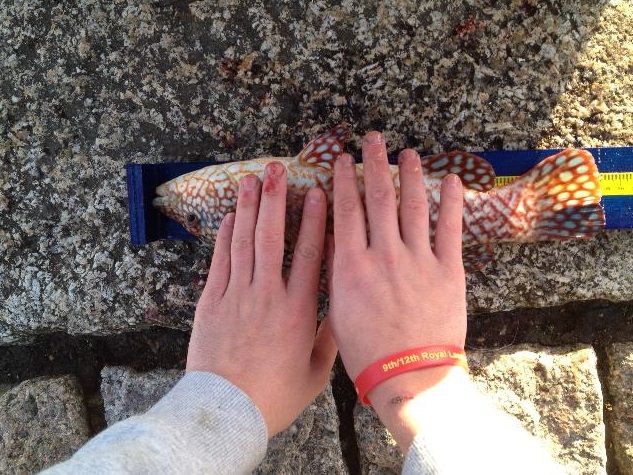 Then changed over very quickly to a high trace with small Sandeel! 4 Casts = 4 Pollock This was the Biggest
Then after i thought i had one long enough i changed both over for a Pouting! After having a couple i decided this one was big enough lol!
I had 5 Species before it went dark! It was simple ....catch a Rockling....easy peasy......2 hours later i am runnign around like a headless chicken fishing front wall then back wall then front wall then back wall haha! with 10 minutes remaining i decided to get in my (old faithful spot on the back wall) and try and flick it out amoungst the boulders! after loosing around 10 leads already as the tide was p*ssing through. I was decided to wack on a 6oz weight and litrally drop down wall. 7.25pm and rod bends over! YESSSS i have a feeling its a Rockling as soon as it was over the wall i was a happy man! I packed up straight away after
Here is the Rockling - Still unsure if it is a Shore Rockling or 3 Bearded? It is a new P.B though whatever it is - 1lb 8oz
...i was thinking of keeping it but it just looked too mottley.
Boat Trip - Anna 2 Charter Boat 9th March
33lb Reef Caught Conger Eel & Biggest of the day
Back to the Shore Fishing!
Pully Rig Sakuma 5/0 Main Hooks 3/0 Sakuma Pennel Fillet of Mackerel. Ready to Launch!
I really have not been going fishing, but i did choose to go on 12th March! I was targeting Undulate Rays with Mackerel & Squid Cocktail when my rod started to get a slow pull down! Striked into what i thought was a nice Ray at first started really putting a bend in my rod. After seeing it was a Conger Eel the next difficult task was trying to get it in a drop net! As was only on 40lb Hook Trace Line i was letting it do what it wanted to do so it wouldn't snap my line, 10 minutes later with the help of Simon Gavey, Jack Gavey & Adrian Le Hueze we got it in the net! Here it is weighing
31lb 8oz
!! Happy with that! My 6th Conger Eel over 30lb from the shore!
After having this good fish i went into hibernation for another week, without fishing but then i thought another easy session at St Catherine's Breakwater was in order. The troops (Sam Daniels, Gareth Mcgonagle) got together in the car park and the weather was rubbish! We decided to go for it anyway, and we ventured down the breakwater. Few Dogfish came in from me had 5 or 6 in total. Gareth lost a Conger on surface around 15lb Mark & Sam Daniels goes and lands himself a Beauty!
17lb 12oz Blonde Ray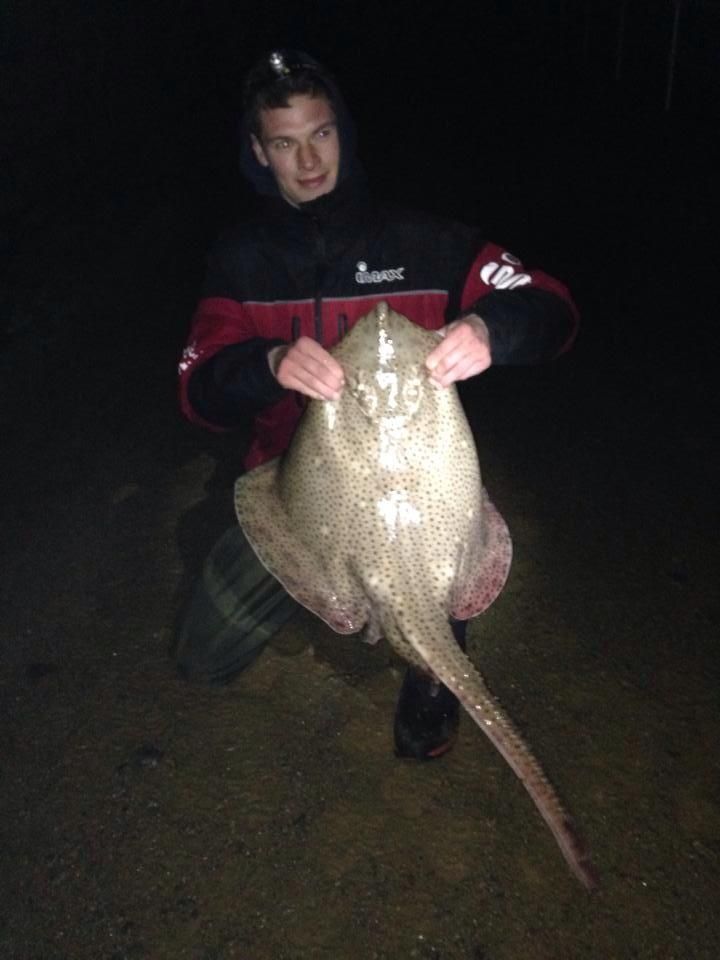 So we called it a night and again, seeing a fish like that makes not just the Angler happy :)
I tried St Catherine again the following week, & my luck had seemed to run out ! Just a load of Dogfish & Pouting.
29th - 30th March Mulleting
After work on Saturday 29th i tried Bassing with the Lures for an hour down North Coast Rock mark. Looked perfect but couldn't find any fish! Decided to pack up and go Mullet Fishing, found a shoal of Mullet and started to ground bait....didn't take long before i winkled one out :)
Caught & Released without weighing (left scales in van) But i estimate at 3lb 8oz.
Sunday
After scoffing myself during Mothers Day lunch i sneaked in 2 hours Mulleting! I hooked out 3 fish, averaging 2lbish in size. Sam Managed one & so did Adrian :)
1st April & 2nd April
I have done 2 quick 40 Minute Lure Fishing sessions
The first time fishing with Soft Plastics this year for Wrasse & i managed one of around 2lb
A Bass of around 6lb followed this Wrasse in right to the surface! I quickly changed over to a Savage Gear but it was not to be :( Returned the next day to see if i spent a solid 30 minutes Bass Fishing i might get one....but i didnt...instead i got bored and managed one small Wrasse.
Started the
WSF Species Hunt Competition 2014
this year so i shall keep you all updated, i have added all my catches on its own page which is located on my home page. Please check it out!
Tight Lines & thanks for reading :D