So went out a couple of times last week and over the Bank Holiday weekend, i have caught a few fish but not as many as i was hoping for!
So one evening last week went out with Alex Plaster in search of some Wrasse mainly, we tried a new mark we both have never fished before. I scoped out this mark a couple of days previous and found the way down from the top! So after a few small Wrasse i decided to put on a Savage gear Sandeel and have a few chucks in some White water with tide! and Booom ZZZZZZzzz Great fight on my Shimino Beast Master managed to get it in fairly quickly and Alex went down and grabbed the fish. Was my Best Bass so far this year weighing 5lbs
I took a shot on the Ruler too and it went 60cm
So gave it 10 more mins and back to the van as i had a Footy match straight after.
The Long weekend was here finally whohoo fishing time :) ...weather was not on my side though was rubbish to be quiet honest! But on Saturday i went out with my mate Nigel in search of some Bass tried two marks very close to each other, Nigel had Garfish & Pollock i think as well as Wrasse & myself managed a few Wrasse one i lost on surface estimating over the 4lb Mark! & another Bass (took a Savage Gear once again)
This one weighing 3lb 10oz
And a shot on the Ruler going 56cm (this fish was returned in style may i add)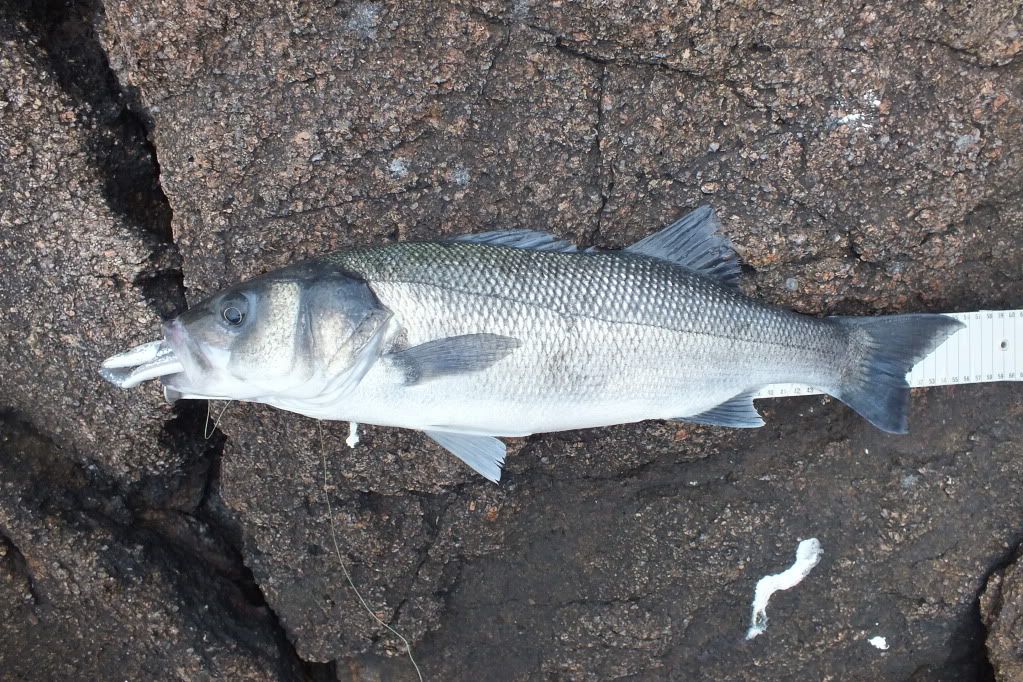 So the rest of my weekend was pretty dull to be honest was with Alex Plaster when he had a Starry Smooth hound of 6lb i got a picture but (haha its on my phone which is kind of currently chilling in the sea)
There goes my Samsung Galaxy Touch Screen, i knew it wouldn't last!
The story of how i dropped my phone in the sea is quite funny, i caught a pretty nice Wrasse on Monday and was taking a picture of it when it decided to flap very high and knocked the phone clean out my hand resulting in it to smash against some rocks and PLOP haha! ohh welll Nokia time :) ! So will try and keep you updated some more....Mullet and Smoothy time!! :)