Over last weekend i went out with Lee Jarvis to a new mark for both of us! He managed his first shore caught Conger of around 10lb catch and released but with no picture i am afraid :(
I have been out twice over the week once for Congers and once for Mullet.
The Conger Session was short and sweet tried out a new spot. Was only using one rod each between three of us. I was the lucky one who managed two small whips.
I know there not big but still managed the target species. :)
So then Wednesday night Myself and Ritchie & Mystery Guest Decided to do a Bit of a cheeky Mullet fishing
Because i am rubbish at mullet fishing Ritchie pulled one out within minutes!
Ritchie's Girlfriend holding a nice Mullet, I think i heard her say "my hands smell of fish" around 36 times after this picture was taken :)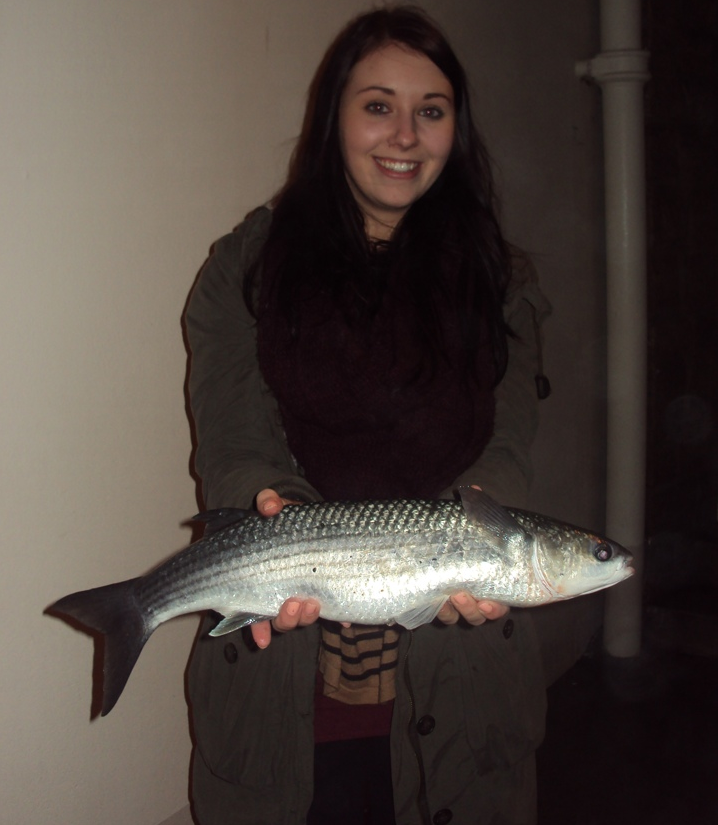 And then after his was released and he was on the way back to me, i was into a fish put up a great fight in 2ft of water! Here is glory shot: Slightly bigger than Ritchie's ;)
4lbs +
So still getting fish in January is keeping the motivation up to get out there! Dont think i will get much done over weekend, but if i do i shall let you know how i get on. Trip to Mexico coming up in March so taking a Travel rod with me, should be fun! Only down side is i am trying to burn of my Christmas Turkey :)
Thanks for Reading